Teppichfliesen Marktübersicht 2018/19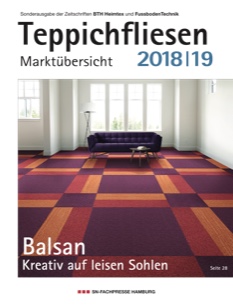 Order Teppichfliesen Marktübersicht 2018/19
Teppichfliesen Marktübersicht 2018/19
The market overview "Carpet Tiles" is a comprehensive information and reference tool for retailers, floor laying craftsmen and flooring experts.

It includes technical data of almost 600 different carpet tiles, clearly displayed in a table. Moreover, there is a separate analysis with regard to special features: free of PVC and bitumen, made from recycled fiber, plank format, platinum format, footfall sound improvement with a minimum of 30 dB.

27 companies are presenting their products. Also included is contact information for all suppliers.

Carpet Tile Market Overview 20118/19. 120 pages. In German language.

---
Publication Details:
Unit price: 35.00 € plus Postage


---