Verlege-Unterlagen Marktübersicht 2015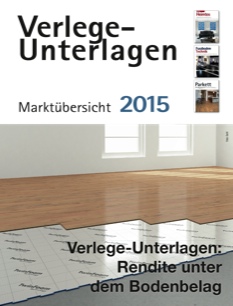 Order Verlege-Unterlagen Marktübersicht 2015
Verlege-Unterlagen Marktübersicht 2015
The first market overview "Underlays" is a comprehensive information and reference tool for retailers, floor laying craftsmen and flooring experts.

It includes technical data of 314 different underlays for textile and resilient floor coverings, parquet, laminate and cork floors, clearly displayed in a table. Moreover, there is a separate analysis with regard to the areas of application: floor heating / cooling, thermal insulation, moisture protection, compensation for unevenness and shock loading.

30 companies are present their products. Also included is contact information for all suppliers.

You will also find interviews with suppliers, retailers, craftsmen and experts.

Underlays - Market Overview 2015. 82 pages.

---
Publication Details:
Unit price: 20.00 € plus Postage


---