CarpetXL Compass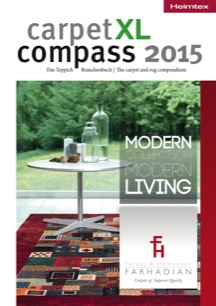 Order CarpetXL Compass
CarpetXL Compass
Carpet XL Compass is the international yearbook for the entire carpet and rug industry.

The Compass puts together helpful knowledge for carpet and rug retailers and specialists: manufacturing methods, a comprehensive chapter about oriental carpets and specialist terms.

Another valuable resource for the daily work of retailers and buyers is the continually updated directory in the Carpet XL Compass. It contains addresses of wholesalers, importers and manufacturers, suppliers of supplementary products, experts and organisations.

The Carpet XL Compass 2012 is published bilingually in German and English. The size is 170 mm x 240 mm.


---
Publication Details:
Unit price: 38.50 € plus Postage


---